If you were wondering about getting a new kalimba, you probably stumbled upon Gecko thumb pianos. Many claim that these are great for beginners, and if you are just starting your kalimba journey, these might be the right thing for you. 
So, are Gecko kalimbas good for beginners? The answer is yes. There are so many players that opt for this brand, and with such a high number of satisfied customers, you can say that they are undoubtedly good. 
Gecko offers so many different models, and the price range can cover almost anything. Even if you are an absolute beginner, you won't need to spend a fortune on an incredible instrument to get you started. 
Is The Gecko Kalimba The Best One For Beginners? 
Gecko kalimbas are great for both beginners and experienced players. With so many different models you can pick, there is no doubt that you will be able to find the one that's perfect for you. 
Gecko sells both ones with resonators and without ones, and they take pride in the quality of their products. Moreover, Gecko is among the most popular brands in the world, when it comes to the kalimba, and many players stick to it for years. 
The best quality of Gecko kalimbas is that they are suitable both for experienced players and beginners. Getting something like a solid-wood kalimba if you are a beginner will get you far, and will allow you to learn more about this beautiful instrument. 
So, if you are looking for an affordable, high-quality instrument, Gecko might be a perfect choice. 
Well-Known Musicians That Uses Gecko Kalimbas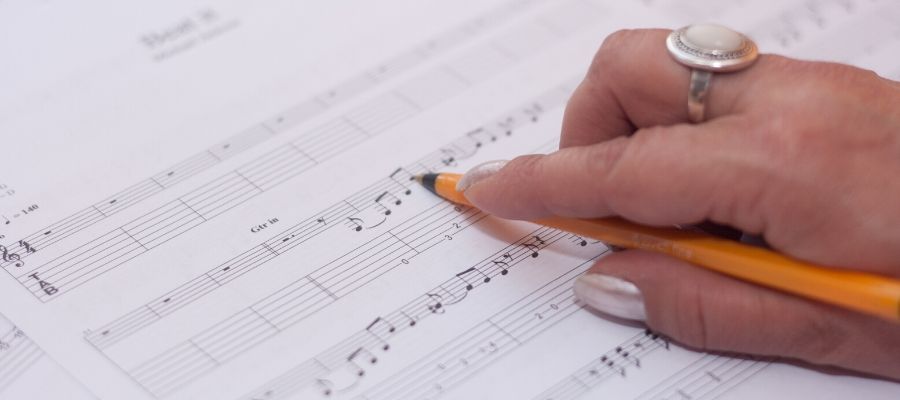 While Gecko kalimbas are a great tool for every beginner, it doesn't have to stop there. There are so many well-known musicians that stick to this brand even though they are no longer beginners. 
The reason for this is that Gecko kalimbas can be rather good, and you might never feel the need to seek for something better. Of course, there are instruments that will cost you a couple of hundreds, but you may still stick to the thumb piano you bought when you started learning. 
April Yang
One of the musicians that use this brand is April Yang. She is famous in the kalimba circle, and you can check her videos either on her YouTube.
She plays several different models of Gecko kalimba, and each sounds magical. You can clearly hear that she is a pro and that she makes her kalimba sing. Besides playing the kalimba, she often plays guitar, and it's obvious that she loves music, and that she is an incredible artist. 
Amalia Guo
Another example is Amalia Guo. Amalia uses several different types of Gecko kalimbas, and you can check all of them on her YouTube channel. 
Furthermore, she recorded a great video where you can hear the difference between some Gecko models, and how they sound. This is great if you are looking to buy a new instrument, but still, have a dilemma on the model.
Here, you can hear how each instrument sounds, and what's the difference between models with or without a resonating box. The best thing is that you can see how the material of the instrument can have an impact on the sound, and what is the difference between each model. 
How Much Does A Gecko Kalimba Cost
The price of the model can depend on many factors such as wood, quality of the instrument, additional accessories, number of tines if the kalimba has a resonating box, and so on. The price for Gecko kalimbas is usually between $5 and $80. The cheapest one is eight-key kalimba without a resonating box, and it's under $10. 
However, my advice would be to go for something more common, like a standard 17-key kalimba. This way, you will get more octaves, and you will be able to easily learn how to play. 
The main reason is that most ktabs are written for this number of keys, and you won't have to worry about compensating for the missing notes. 
When it comes to standard 17-key Gecko kalimbas, the price is around $40-$70. This is such a great price for the quality you'll get, and you can choose additional accessories, colors, and so on. 
The best thing is that most Gecko kalimbas arrive with a tuning hammer and a case, which means that you will hardly need any additional things to buy. You can easily tune your instrument using an app and a tuning hammer. 
Naturally, you can find great kalimbas with fewer keys, but you will probably need to buy a new instrument as you progress with learning. It might be the best idea to get one of the standard ones since the price difference is not as significant as with other instruments. 
Top 3 Gecko Kalimbas
Now, I will go through what I think are the best kalimbas you can get, as well as what accessories you will buy with the package. Moreover, the price can slightly vary, but you will get a nice idea of how much you will need to spend on these beauties. 
17-Key Gecko Kalimba With A Protective Case
Sale
GECKO Kalimba 17 Keys Thumb Piano with Waterproof Protective Box, Tune...
High-quality Materials: Handmade with high-quality mahogany and ore steel...
Wonderful Sound: Without any music basis, you just move your thumb to get...
Study Guidance: With our professionally produced kalimba learning booklet,...
Security Protection: EVA kalimba boxes can effectively protect kalimba...
The first and most obvious choice is a 17-key kalimba that allows you to jump straight into playing music. This is without a doubt the most popular model they have to offer, and for the price around $80, you will have a hard time finding a better instrument. 
It is perfect both for beginners and experienced players, and many are opting for this model. Besides kalimba, you will get a tuning hammer and an EVA case that will ensure that your instrument is always safe. 
When it comes to materials, this thumb piano uses high-quality mahogany for the resonating box and steel ore for tines. If you never had any experience with this instrument, you can use a booklet that will introduce you to the basics of playing kalimba. 
Another excellent addition if you are a visual person is the stickers you'll get, which will help you navigate through tines. You can apply them to each tine, and it will allow you to easily find the note you're looking for. Finally, this model is in the key of C major.
The package itself is a bit under 2 pounds, with dimensions of 9.7 x 8.2 x 3.8 inches. 
17-Key Solid Kalimba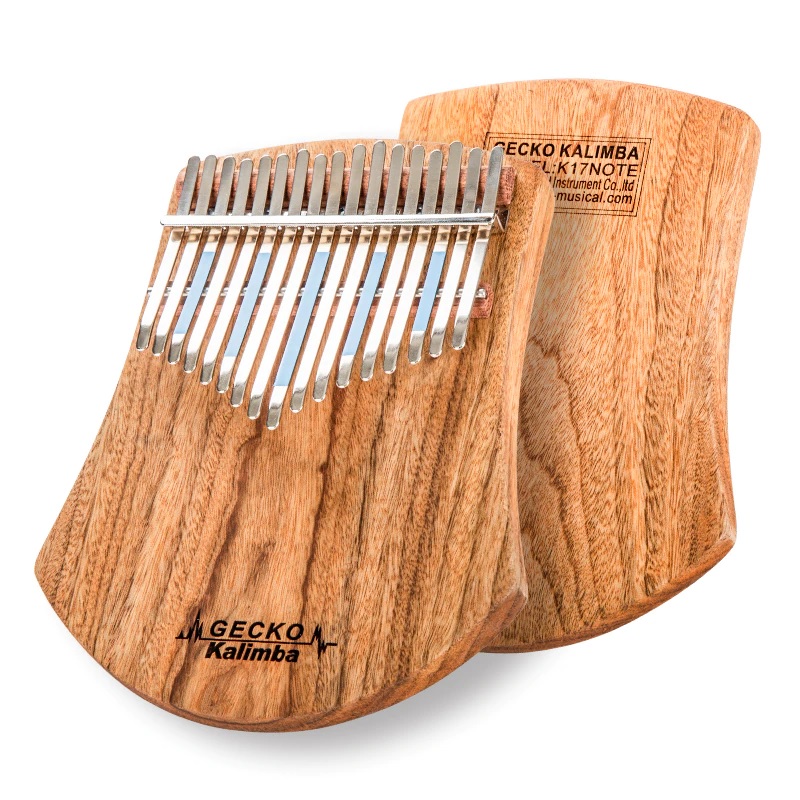 If you are not looking for a kalimba with a resonating box, this doesn't mean that you are doomed to use a low-quality instrument. B Tone Gecko has 17-keys, and it is in the key of C major. The price is around $20, and you will get both instructions and a tuning hammer. 
The material used for the board of this thumb piano is camphor wood. Tines are made of carbon steel, and they are rather comfortable for playing. Each kalimba is hand-made, and it will undoubtedly satisfy anyone looking for a high-quality instrument. 
Buying this model will also get you cleaning cloth, stickers for tines, a bag, a songbook, and more. You can also choose between several shapes, where each model will offer something unique. 
The "small-waist" model here is easy to carry and allows better grip while playing. The item is a bit over one pound with dimensions of 8.3 x 7 x 2.3 inches.
17-Key Curly Maple Kalimba
While this model looks rather similar to the mahogany one, there are a lot of differences in the sound. But most importantly, it looks astonishing. The color combination is incredible and each finish looks more than beautiful. 
You can choose from blue to red with gorgeous sunburst similar to ones you might have seen on electric guitars. 
Even though this is marked as a professional model, anyone can use it and learn how to play on it. Including beginners. The package contains a tuning hammer, instruction manual, stickers, cloth, songbook, and others. 
For this model, Gecko used curly maple with mineral steel keys. The tines and edges are smooth which allows better grip and easier playing. There are also three holes in the soundbox. 
The first one is in the front, and it acts as a resonating hole on the guitar, and the second two are on the back to allow the use of some playing techniques like vibrato. 
The item is around 2 pounds, and the dimensions are 9.9 x 8 x 3.9 inches. Usually, the default tuning of this kalimba is in the key of C major, but you can tune it to anything you like. 
Gecko Vs Donner Kalimba
Donner kalimbas are good and can be slightly cheaper than the Gecko ones. However, the price difference is rather small, and I wouldn't opt for Donner's model. This doesn't mean that their products are bad, of course. 
But Gecko kalimbas are just great. If we talk about the price difference between $10 or $20, I would rather pay a bit more to get something as great as Gecko. 
There are so many people playing these models, and with so many satisfied customers, there is no need to experiment further and try something just to save a few bucks. Furthermore, Gecko kalimbas are beautiful, and there is a special charm to their models. 
Is The Kalimba Easy To Play?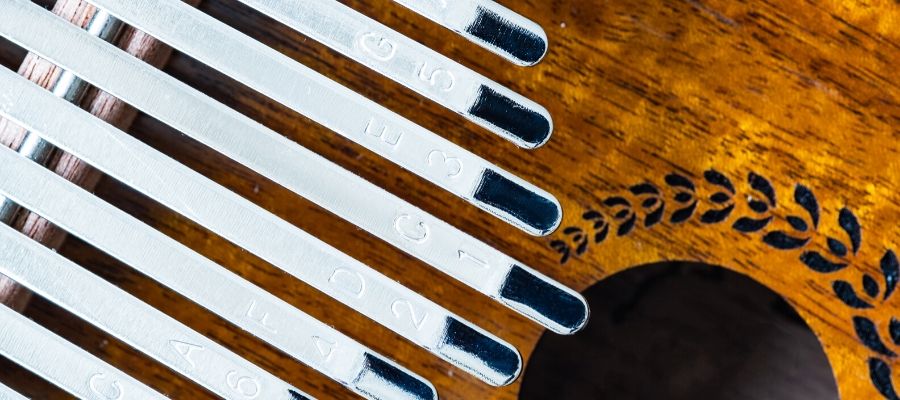 Kalimba is one of the easiest instruments you can find. There is a single key, and all notes are from one scale. Most kalimbas are in the key of C major, and they have a bit over two octaves. This means that you can hardly hit a wrong note. 
Even if you never had experience with playing music or music theory, the chances of you finding kalimba challenging are slim. 
Moreover, you can easily find tablatures and tutorials that will allow you to play songs in a couple of hours even after picking the instrument for the first time. 
There aren't many instruments that are as beginner-friendly as a kalimba. And even if you are an experienced musician, you can still have a great time playing the thumb piano. 
Summary
Gecko kalimbas are rather popular among the players and many are using them not only as a beginner instrument but even after they mastered the thumb piano. If you were wondering are their models any good, the answer is yes. 
There are so many choices and models you can find, and they are more than beginner-friendly. Furthermore, each model offers something unique, and special. This is one of the reasons why well-known players choose Gecko models. 
So, whether you are an absolute beginner, or experienced kalimba player, there is no doubt that you will enjoy trying out Gecko kalimbas.
If you found this article useful you may want to save this pin below to your Kalimba board