Whether you are a beginner player or the one with experience with kalimba, there is no doubt that you will need to keep your instrument in tune. Fortunately, finding a tuner is not a problem at all. 
Even though you can use a standard tuner (if you have one), it is so much easier to simply download the app for your phone, and keep your kalimba in tune whenever you play.
Here, I will go through some of the best apps you can find for both Android and iOS, that you can use to tune your thumb piano. 
The best thing is that focus will be on free apps that you can download without paying a single dime. 
The most important thing about tuners is that you need to download a chromatic tuner. Some guitar tuners allow you to tune on a specific pitch, and if you get something like that, you won't be able to successfully tune a kalimba. 
Fine Chromatic Tuner
Fine Chromatic Tuner is another option you might try. The app supports frequencies from 70 Hz to 550 Hz, which means that you won't have any trouble tuning kalimba. 
As you can imagine, there aren't any tuners designed specifically for kalimba, but you can try something like this to keep your thumb piano always in tune.
The app is free to use, and it offers several additional options. You can use automatic note selection, and there is a "needle" on the display to make everything easier. 
The program itself is easy to use, and it works similarly to other guitar and instrument tuners you can find. 
What is great here is that you will get an exact frequency displayed on the screen which can allow you to tune each tine to the right pitch. Furthermore, it works great even in noisy surroundings which aren't something many apps can offer. 
Pano Tuner
Pano Tuner is one of the best-rated apps on the App Store, and it is available for both Android and iOS. The design of the app is beautiful and it reminds of vintage amplifiers and equipment. There is a unique charm that this chromatic tuner can offer. 
The tuner will "listen" to the sounds you play, and it will show you the pitch. It's easy to use, and it's both quick and responsive. 
Since it is a chromatic tuner, it means that it works well with nearly any instrument, and that applies to kalimbas as well. You can adjust the concert-A frequency, change sensitivity, or use any other non-standard tuning. 
The interface is more than incredible, and you'll be able to tune your instrument in no time. Pano Tuner works great with any kalimba, and keeping your thumb piano in tune has never been easier. 
Pano Tuner is a go-to option for many kalimba players, and it is rather easy to tune it using this app. 
BOSS Tuner
BOSS has been around for quite some time, and their pedals and processors are among the most popular equipment for guitarists. 
This app is a digital version of their chromatic tuner, and you can install it on your phone now. BOSS Tuner keeps the design of the pedal, and it's rather intuitive. 
It also offers a hands-free tuning for a variety of instruments. You can also try out a pitch reference where you can train your ear to tune a kalimba. 
Of course, if this is too difficult or unnecessary for you, you can always opt for a standard chromatic tuner instead.
The tuning range of Boss Tuner is from A#0 which is 29,14 Hz to G8 or 6,271.93 Hz. The application is stable, and it's one of the easiest to use. 
The best thing about BOSS Tuner is that it doesn't force you to tune to a specific pitch, but shows you what you are playing instead. This way, you can tune your kalimba any way you desire. It is great for players that love experimenting with different tunings. 
CarlTune – Chromatic Tuner
CarlTune has been rather popular with musicians looking for vocal exercises. But this doesn't mean that you can't tune your kalimba with it. 
This app offers an "all-in-one view" that allows you to easily navigate and understand what you are doing while tuning your instrument. You can see the exact frequency, octave, note, and even keyboard. 
The app also offers various presets that you can change and adjust to your preferences. Unlike many other tuners, all features are available for free, and the only thing you can pay for is to remove ads. 
CarlTune works amazingly with kalimba, and you will be able to tune it in no time even if you are a beginner. Since it is a chromatic tuner, it means that you'll be able to experiment with different tunings and try something a bit less common if you feel like it. 
Pitched Tuner
One of the examples you can try is Pitched Tuner. This tuner is a chromatic one, and it allows you to keep your thumb piano in tune. Needless to say, this application is free, and you won't have trouble navigating it. 
You can use it to tune any instruments on this chromatic tuner. It will also show you an exact frequency of the note you're playing which will allow you to easily set up your instrument. 
Many kalimba players are opting for this app, and as you can imagine, it is free for everyone. When it comes to beginners, the app is simple to use, and they probably won't have any problems with Pitchlab. 
The app is available on Android and App Store, and you can check it on the link below. Pitched Tuner also offers some in-app purchases, but the app itself is free, and you don't need to buy anything to use it. 
Tuner Lite By Piascore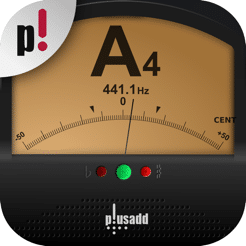 Another great app that works quite well with kalimba is Tuner Lite. According to their page, there are over ten thousand musicians that use this app, and it's rather good. 
This "ultimate chromatic tuner" will allow you to set up everything in no time. Both beginners and experienced players are welcome to use Tuner Lite, and the UI is rather intuitive. 
You can use a needle meter to adjust the tine on your kalimba, and there are several additional settings options you can try. 
The app also supports quite a lot of languages which means that you can use it even if your English is not perfect. As with the other entries on this list, the app is completely free. 
However, you can always opt for the paid version if you are looking to support developers or if you need some of the options that aren't available with the lite tuner. 
Piascore made evident that they care about their product and users, and this might be the reason why Tuner Lite is rather popular among kalimba players. The simple interface, accuracy, and responsiveness are the main factors you might stick to this app for your kalimba tuning. 
gStrings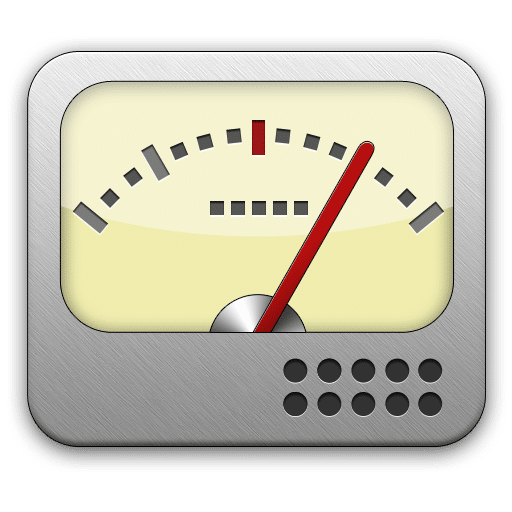 GStrings has been a go-to choice for many players for years. This app is incredible, easy to use, and it is free. But don't let the name fool you. 
You don't need to play a string instrument to use it. It works great with almost any instrument, and most importantly, you can tune your kalimba using it. 
The program offers several "built-in" instruments you can try, and it even allows you to add your own custom tuning if you are looking for something less common. 
The app is reliable, and it is one of the most popular free tuners you can find. Moreover, it has an excellent refresh rate, and it is fully chromatic. 
Many players claim that this is the most reliable and accurate tuner you can find, and I can't recommend it enough. The app is easy to use and it is beginner-friendly. 
Even though the main focus is guitar and string instruments, you can still use it for kalimba without any problems, and many kalimba players chose this very app. 
Best Tuner
Whether this is the best tuner available or not, one thing is certain – it is quite good. The precision tool will allow you to quickly tune any instrument and not just guitar. 
As you can imagine, it is chromatic, and it is both designed and tested by professional musicians. 
The program offers three modes: auto, sound, and play. You can also choose some of the templates, but they are more focused on guitar and banjo. 
What is unique about the Best Tuner is that it allows you to tune your instrument to a specific pitch. There are people who don't want to tune their instruments to 440 Hz and are looking for something that will allow them to tune it to 432 Hz instead. 
Best Tuner will allow you to do just that. As with other entries on the list, the app is completely free, and advertisements you might encounter are less invasive. You might notice the banner only, but it's not something that will prevent you from using the app. 
DaTuner 
DaTuner is another popular choice with over ten million downloads! It is able to help you tune almost any instrument, and it works with kalimba as well. It is precise, responsive, and with a simple interface. 
The program offers auto-sensitivity which means that you won't have to configure it before use. The display is easy to read, and it will change color when you are on the pitch. 
One of the interesting options is to lock a note if you are completely out of tune, which will allow you to tune to that specific note without any interference. The range of the app is between 8 kHz and 48 kHz, and it is designed for all skill levels. 
DaTuner is free to use. However, there are additional options and services that you can unlock via purchases. Many tuners you can find have trouble recognizing the note, but DaTuner is not one of them. 
Even if you opt for a free version you will find it easy to use and it is rather accurate. Many players chose DaTuner, and some of them claim that it's worth every penny. 
This might be the main reason why many kalimba players choose this app, and if you try it, you will understand why. 
insTuner
The last entry on the list is insTuner. Similarly to some other tuners, the user can purchase additional services, but the basic version is free to use. 
InsTuner is great at eliminating background noise, which will allow you to accurately and easily tune your kalimba. Needless to say, the app is chromatic, and it works great for nearly any instrument. 
This tuner is highly accurate, and it goes to a thousandth of a semitone or 0.1 cent. The interface is simple, intuitive, and attractive. It allows users to easily find the pitch using a "fixed" wheel, and you can use an electronic pitch if you want to tune by ear. 
The tuning range for insTuner is between C0 and B8, which is more than enough for tuning a kalimba. There are so many satisfied users, and you'll get everything you need from the free app. 
Of course, if you are looking for advanced options, you can check what this app has to offer as well as the cost of upgrading it to advanced. 
InsTuner is rather popular for iOS users, and it does wonders with kalimba. If you are looking for a great, reliable app, insTuner might be a perfect choice. 
Summary
Tuning a kalimba is rather important and everyone should know how to do it. If you are looking to play the thumb piano, keeping it in tune is one of the most important things you should do. The process of tuning the kalimba is simple. 
However, you will need a tuner to successfully complete this task. If your kalimba has a pickup, you can use regular tuners. But not every thumb piano has a pickup, and for others, you can find any chromatic tuner that can recognize the sound via the microphone. 
The only thing you need to remember is that you will need a chromatic tuner and that other guitar tuners that can cover specific pitches will not be able to help you. 
The best thing is that you can find so many great tuners online, and most of them are free. Downloading them on your Android or iOS device will make everything easier, and you'll be able to tune your kalimba in no time.
If you found this article useful you may want to save this pin below to your Kalimba board