If you are willing to learn how to play the kalimba, you will need to buy the instrument first. But the main problem with getting something new is that you don't really know what instruments are good. 
Furthermore, you'll need to pay attention and know what accessories you might need, what is a good price for a beginner kalimba.
Here, I will go through the best instruments for beginners and hopefully, you will have an easier time picking the one you like. 
Gecko Kalimba 17 Keys
If you are looking for a great instrument with a decent price, Gecko kalimbas might be a perfect choice. The company offers so many different models, and each will offer something unique and different. 
One of the best Gecko kalimbas you can find is made of solid mahogany and has seventeen stainless steel tines. Besides the instrument, you will also get a lot of accessories which is incredible for beginner players. 
Most models come with a solid case that will prevent any type of damage, and it will allow you to safely store the kalimba once you're not playing it. Furthermore, you will also get a polishing cloth that you can use to clean the instrument, a tuning hammer, stickers, and instructions. 
All of these will significantly help you learn more about the instrument and make your first steps. But extra items you'll receive aren't the only reason why you should get this model. Gecko kalimbas are affordable, and they are beginner-friendly. 
Of course, if you already have experience playing the kalimba, you can still get another one since these are excellent models. 
You can check the links below to see more details and hear how the instrument sounds. 
Newlam Kalimba With 17 Keys
Newlam kalimba offers great quality, and there are still several improvements you should check out. The most obvious feature is the hand rest which will make playing a lot more comfortable. The rest is perfectly shaped and it's located on both sides of the instrument. 
When it comes to specifications, Newlam kalimba is made of Koa. This wood is known for its resonance, and it looks gorgeous. The entire instrument seems almost redesigned, and you will love each little improvement. 
As with most standard kalimbas, there are seventeen tines, and the company used steel ore. The main quality of this instrument is in the small cutaways which makes it perfect even for people with smaller hands. 
Playing the kalimba is comfortable, and you will also get all accessories you'll need. The price of this model is in the medium range, and it's still affordable. Moreover, you can see everything on the links below and you'll be able to hear how it sounds. 
Moozica Electric Kalimba With 17 Keys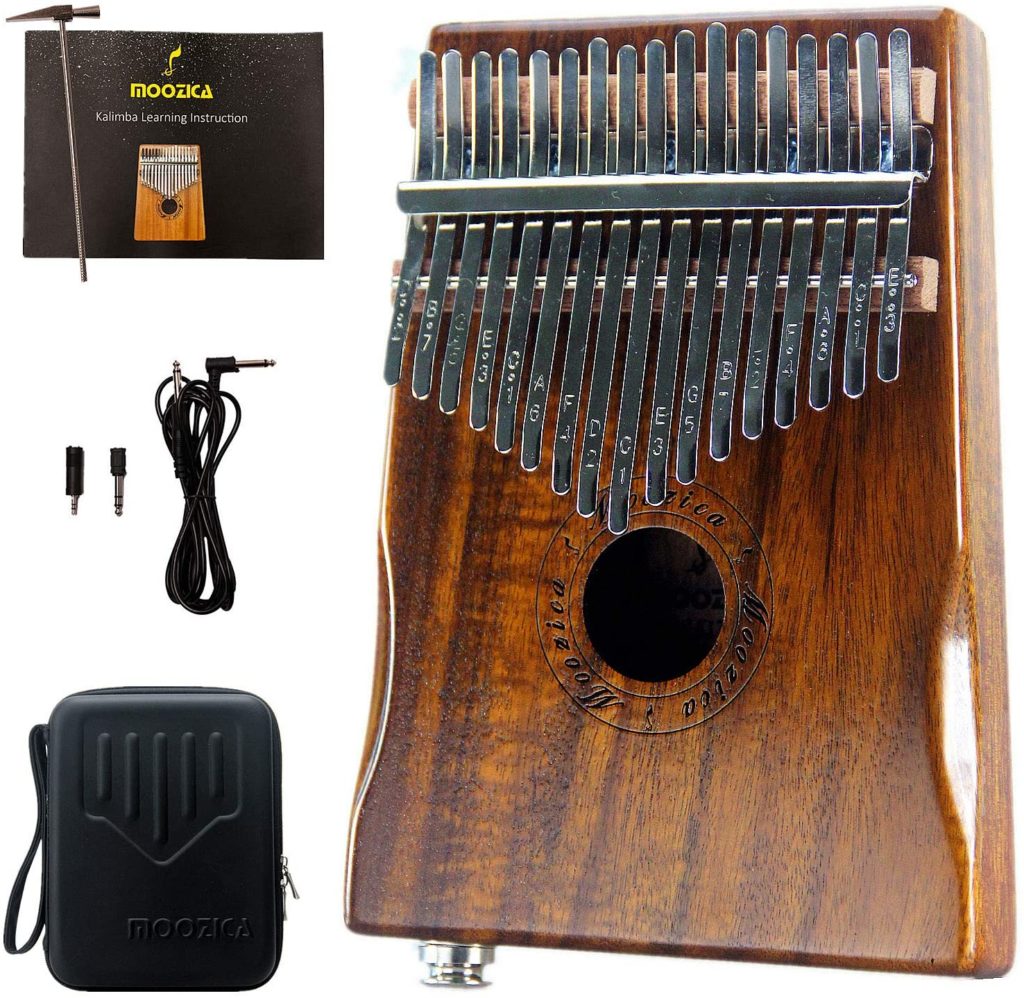 You might have noticed that Moozica kalimbas are a bit more expensive compared to other models, but it's obvious why as soon as you check them out. The craftsmanship on these models is superb, and every part of the instrument is smooth and shiny.
It seems that Moozica combined the best elements of several other models to create something unique and incredible. The model has seventeen keys, and it's made of Acacia Koa. 
But that's not all. There are also perfectly polished palm rests, and the finish is out of this world. You will also get a chance to choose between a couple of different colors which is always a great thing. 
There is also one key difference between this model and others on the list. If you get Moozica kalimba, you'll be able to plug it into the amp or a speaker. The kalimba comes with a built-in pickup, and it has a standard 6.35 mm output. 
This will allow you to record your songs easily or to play with the kalimba live. While this might not be everyone's cup of tea, it is a great addition and it allows you to experiment with pedals and different techniques. 
And if you don't want a kalimba with a pickup, Moozica creates models without one as well. 
Unokki Kalimba With 17 Keys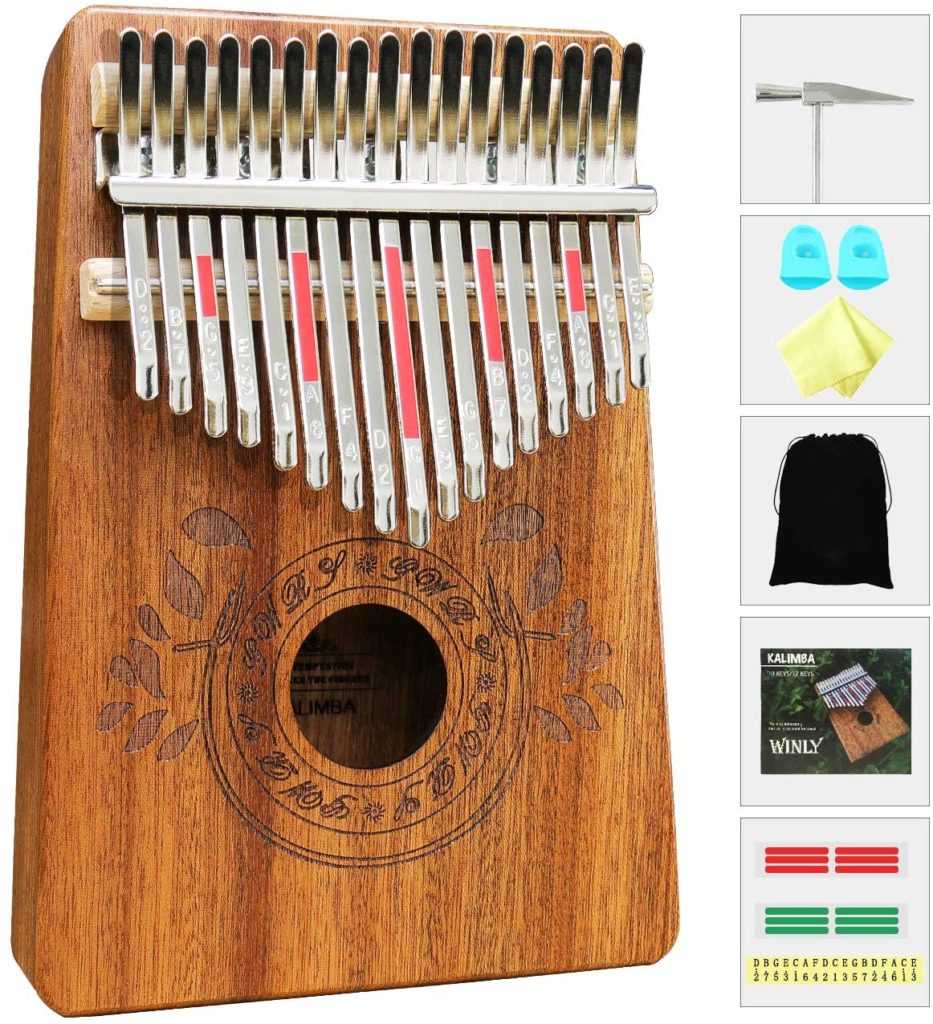 The next entry on the list is Unokki kalimba. Even though the model is rather similar to the previous ones, it still offers something new and unique. Moreover, the price of this kalimba is significantly lower, which is always great. 
Unokki kalimba offers seventeen steel ore tines placed on the mahogany box. Similarly to most kalimbas, it is in the key of C, and you will get both engraved tines and stickers to help you navigate and learn better. 
Around the soundhole, there is a beautiful engraving, which is beautiful and the hole itself is a bit larger than the standard one. If you buy this model, you will also get thumb protectors, tuning hammer, polishing cloth, and stickers.
Unfortunately, there isn't a hard-shell case available, and you will get a bag or a pouch instead. The finish of the kalimba is also attractive, and you will get a chance to choose between several shades. 
All in all, it is a great instrument for beginners, and you will get a great instrument for a lower price. 
Muspor Mahogany Kalimba With 17 Keys
A final model on the list is designed by Muspor and it's an incredible instrument. It's always exciting to see a company experiment with design, and Muspor did a great job with their models of the kalimba. 
One of the first things you'll notice is how beautifully crafted these instruments are. The kalimbas are made of solid mahogany, and there are seventeen keys. 
But the most important feature of this model, at least visually, is the soundhole. Instead of the regular circular hole, it is the shape of a deer with antlers. It is a great way to add something new and unique, and Muspor did a great job designing this model. 
Furthermore, the instrument is blue instead of the regular wood color and it makes it really exotic and different. Along with the instrument you will also get a carrying bag, tuning hammer, and stickers. 
The main quality of this model is its beautiful design, and if you get one, there is a chance that it will motivate you to practice and keep learning. 
For all of you that want to hear how this instrument sounds, you can check it out on the link below. 
JDR 17 Keys Kalimba
Another great example of instruments that are perfect for beginners is JDR 17. The instrument has seventeen keys, and it's once again made of solid mahogany. As a result, the kalimba has incredible acoustic properties and sounds really natural. 
Tines on this model are made of manganese steel which gives them a nice crisp sound. Kalimba JDR 17 is handmade, but surprisingly, the price is affordable. Each tine is also engraved with letters and numbers which makes it easy to navigate.
But if this is hard for you to see, you can always use extra stickers to place them on each tine. This way, you will have an easier time seeing which note you need to pluck when you start learning. 
Similarly to the Gecko model, you will also get additional accessories like music book, polishing cloth, and tuning hammer. By default, the instrument is tuned to standard C, but you can change it once you get to know the instrument better. 
This kalimba is also suitable for all skill levels, and there is no doubt that you will have fun if you opt for this model. 
Apelila Mahogany Kalimba With 17 Keys
There are so few things you can change on the kalimba and still keep the spirit of the instrument. And Apelila offers just that. On the first look, the instrument is significantly different than other models, while still offering the same comfort and playability. 
Apelila kalimbas come in several colors and you'll be able to choose between a couple of different designs around the soundhole. But the company didn't change just the engraving around the hole. You can find instruments with different shapes as well. 
Two of the most exciting models have a hole in the shape of the guitar and ballerina. Each kalimba is handmade from high-quality mahogany, and they all have seventeen keys. As you can expect already, the instrument is in the key of C, which is great for beginners. 
This way, you can easily find learning material online, and you won't have to worry about music theory. Another important thing is that you will get everything you need to play the instrument. There is a tuning hammer, polishing cloth, stickers, and a carrying pouch. 
The most surprising part is that even though there are so many variations, and each looks and sounds beautiful, the instrument is still affordable. 
If you want to learn more about this model, you can check the link below. There is also a beautiful video that demonstrates the sound quality of the kalimba. All you need to do is click on the link and scroll down. 
Aklot Bamboo Kalimba With 17 Keys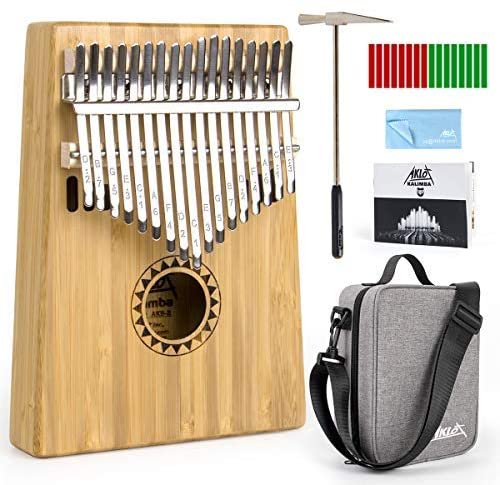 Having palm rests is not the only unique feature you can find on kalimbas. If you are looking for something beautiful and different, Aklot might have a perfect instrument for you. Instead of the regular box shape of the thumb piano, this model is shaped like a bear's head. 
But having a unique shape is not the only advantage of these models. The circular shape of the kalimba offers better acoustics and it is something many will enjoy. Aklot offers a bamboo instead of maple which just adds to more variety and difference in the sound.
While you can go for a regular shape since Aklot also offers standard kalimbas, the one with the bear shape might be something you will enjoy. It is also perfect for younger players since the cuteness of the instrument will probably make them practice more. 
As you can expect, you will also get a variety of accessories that you can use with your kalimba. Furthermore, the tines are both engraved and you can use stickers to make numbers and letters more visible. 
Donner Mahogany Kalimba With 17 Keys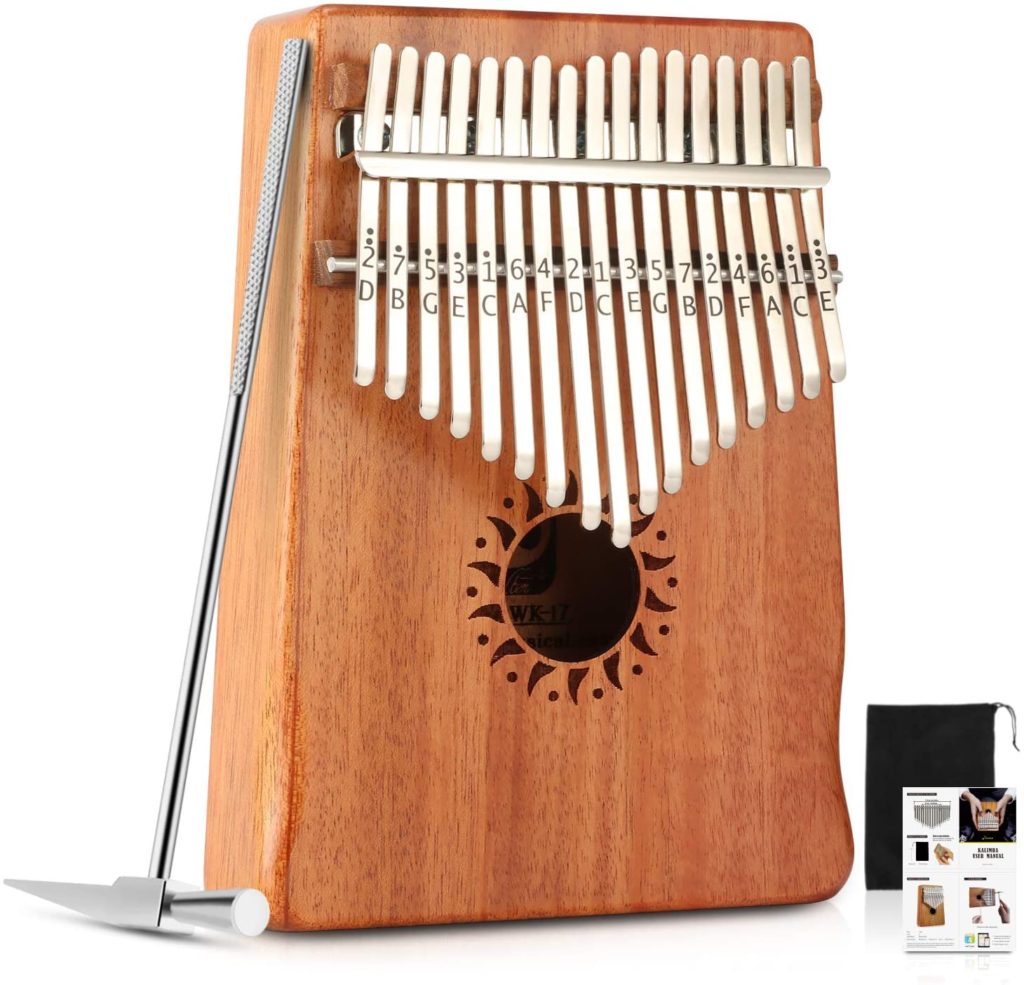 Donner has been one of the major players in the world of thumb pianos, and there are a couple of models you should definitely check out. One of the most popular models is DKL-17. The kalimba has seventeen keys, and it's pre-tuned to the standard C. 
Materials used for the kalimba are solid mahogany for the resonating box and carbon steel for the keys. Another nice addition is the cutaways on both sides, which improves playability and comfort. 
Interestingly, the size of the instrument is also smaller, which makes it perfect for the younger audience. Kalimbas can be a bit too large for people with smaller hands, and DKL-17 might be a great choice. 
The soundhole is also engraved to look like the sun, and the quality of the instrument is exceptional. It is obvious that Donner did their best to make everything smooth and shiny, and this kalimba looks gorgeous. 
It seems that additional equipment is almost a standard, and here you will also get a tuning hammer, stickers, and a carrying pouch. Even though a pouch is never as good as EVA cases, the quality of the instrument makes up for the difference. 
Treelf Acrylic Kalimba With 17 Keys
To make everything a bit more different you can try out Treelf kalimba. While all of the kalimbas on the list have a resonator, this one is without one. If you are new to the world of kalimba, some instruments are designed without a resonating box. 
What is also great about this model is that it is shaped like a cat! If that's not enough for you, I should mention that it also sounds great. 
Instead of wood, Treelf is an acrylic kalimba. It offers a standard seventeen keys in the C major. Acrylic instruments are also easy to clean, and it's transparent as well. 
It really shows a different and unique take on the kalimba, and you might enjoy experimenting with Treelf thumb piano. 
Naturally, the kalimba comes with all the accessories you'll ever need, including a waterproof EVA case. This will keep your instrument safe and you won't have to worry about anything. 
For all of you wanting to learn more about this model, check the links below. 
Summary
Kalimbas come in all shapes and sizes and finding a perfect one can be problematic for inexperienced players. Here, I covered some of the most popular and attractive kalimbas you can find online, and hopefully, it will help you with your decision. 
All of these models are in the key of C, which is something you should look for if you want to buy an instrument. The main reason for this is because all learning materials you'll find online are written for the 17-key kalimba in the C major. 
This way, you'll be able to practice and improve your knowledge before you start experimenting with different tunings and models. 
Needless to say, the important factor is always the price, and here, I tried to mention affordable instruments only. Naturally, you can find kalimbas that are a lot higher price, but those aren't designed for beginners. 
Regardless of the model you choose, the most important part is practice. If you invest time in learning the instrument, you will have a lot of fun, and you'll be able to fully appreciate this incredible instrument.
If you found this article useful you may want to save this pin below to your Kalimba board